Welcome to Diversity on Air
We have detected that you may be using a mobile device.
Please enable sound on your device to get the complete experience of this site.
Welcome to Interactive Radio: Diversity on Air
How many racialized persons and/or women are on the air in your city?
Interactive Radio: Diversity on Air is a data visualization and auralization tool that allows users to explore information about diversity among radio hosts in cities across Canada and internationally.
Tune to an AM or FM radio station and discover how many men, women, and/or racialized persons have control of the microphone.
This is the online version of Interactive Radio: Diversity on Air. The original version is a physical radio which was re-circuited and programmed especially to visualize and auralize data about diversity on air.
Users could adjust the Gender and Racialized Persons knobs in combination to discover the relative percentages of women (racialized, non-racialized, or both) or men (racialized, non-racialized, or both) who are on-air hosts at the station selected.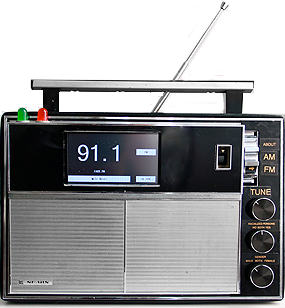 The volume of playback, as well as the position of the antenna (functioning similarly to a VU meter), would change to reflect the percentage of the group selected that is on the air at that station.
About the Artist/Researcher
Lori Beckstead is a professor of radio & sound media in the RTA School of Media at Ryerson University, with a background in community and public radio. Her creative practice centres around soundscape recordings and interactive sound installations that explore themes of location/dislocation, voice, and diversity.